Choice of menus for gourmets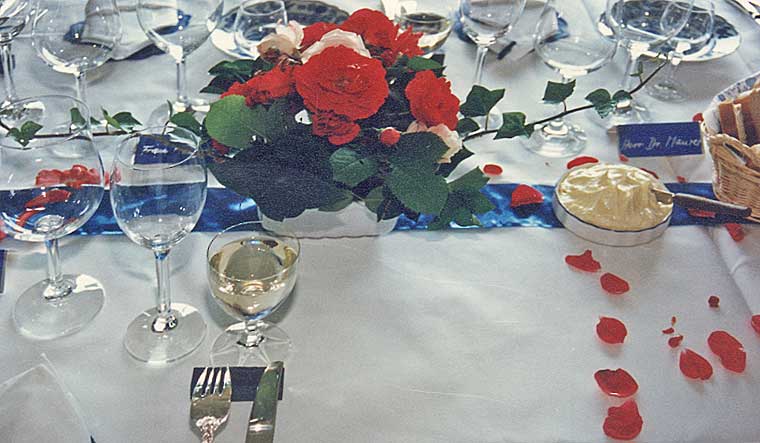 I. King prawns and zucchini
Sheatfish and lentils in balsamico
Anglerfish in Serrano ham
Scallpos in fennel sauce

II. Roasted quails on mixed salad
Mixed salads with 3 different fishes and
garlic sauce
Grilled heart of calf and vegetables

III. Pheasant, patridge, wood pigeon
Trout of the nearby Wispertal
Breast of duck (Bresse)
Grilled saddle of lamb
T-bone steak (Charolux)
Ossobuco (Charolux)
Leg of lamb out of the stone oven
Game from the Hunsrueck area

IV. Choice of cheese
Gorgonzola passato
Warm goat cheese in ham
Baked cheese from Switzerland
Gorgonzola in Polenta cream

V. Some sweet surprises according to the
season

On special request:


1) Homemade goose liver
+ 15 EUR
2) Duo of sole filets and Basmati rice
+ 10 EUR
3) 1/2 of lobster with salad or vegetable
+ 15 EUR
4) Truffled surrey fowl of Bresse
+ 15 EUR
5) Tournedos à la Rossini
+ 10 EUR
5 courses
I + II + III + IV + V
105 EUR
3 courses
I + III + V
75 EUR

Each menu has its own wine.
The restaurant is strictly a no smoking area.
All animals have to keep outside.
Landhaus Delle


Owner Dr. Heinz-Dieter Tinnefeld
Gutenfelsstraße 16
D-55422 Bacharach-Henschhausen
Tel.: +49 (0)67 43 - 17 65
Fax : +49 (0)67 43 - 10 11
Landhaus Delle, Bacharach-Henschhausen
Restaurant, dinner, candlelight dinner
Menu, choice of menus
Bacharach, Rhine river, castles, Loreley, wine walking, wine tastings
Road map, distances, parking, train, airport, boat