Landhaus Delle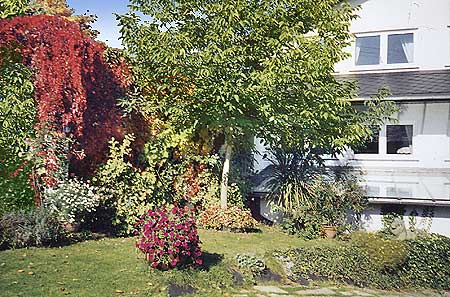 The Landhaus Delle is situated above on the slopes – 300 m over NN (sea level) far away from the noise of the narrow Rhine Valley.
Reside in a new flood-lighted house.
Our house offers to you a large entrance hall, a wintergarden, a chimney room,
the restaurant "Lukullus" and the garden house with the restaurant "Bacchus".
Enjoy in an elegant ambience our Wine Dinner at 7.30 p.m.
The air-conditioned wine cellar has more than 1.500 positions and the corner of digestifs complete the offer for our guests.
Our library contains books in German, English, French, Italian and Spanish.
Our house has 4 double rooms, 2 junior suites and 1 senior suite with an open fireplace and a little rose garden.
You can reach in a radius of 20 km a lot of castles and ruines along the Rhine river.




Landhaus Delle
Owner Dr. Heinz-Dieter Tinnefeld
Gutenfelsstraße 16
D-55422 Bacharach-Henschhausen
Tel.: +49 (0)67 43 - 17 65
Fax : +49 (0)67 43 - 10 11
....
Landhaus Delle, Bacharach-Henschhausen
Our house
Restaurant, dinner, candlelight dinner
Bacharach, Rhine river, castles, Loreley, wine walking, wine tastings
Road map, distances, parking, train, airport, boat